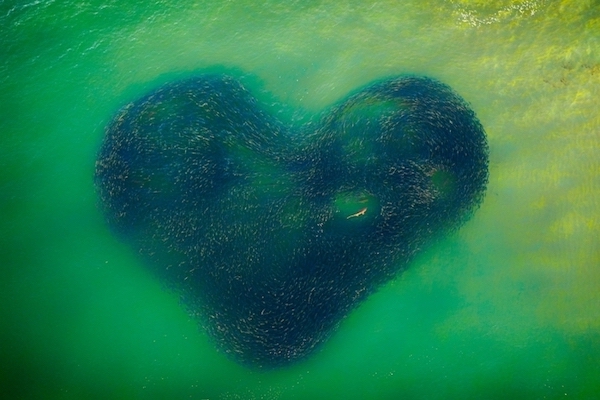 "Love Heart of Nature" by Jim Picôt. All image credits of the photographer / 2020 Drone Awards.


These Are the Best Drone Photos of the Year & They Will Blow Your Mind
These are the best drone photos of the year — and they will blow your mind. From a shark hole in a heart-shaped salmon school to social-distanced protests, these photos are something else.
This photo from Australian photographer  Jim Picôt won the grand prize, and it's not hard to understand why. A hungry shark is inside a salmon school, searching for the weak and vulnerable when by pure chance, the school takes the shape of a heart, beating together as a single organism.
The Nature category had other spectacular entries. From a whale gently pushing a boat of tourists to a lonely frigid road, there was no scarcity of quality entries.
Hosted by the Siena Awards Festival , the contest received entries from photographers in 126 countries, some of which will be featured on a gallery. Other categories included Urban , People , and Life Under COVID-19. Here are some of our best picks.
Big buildings couldn't miss from drone photography.
Sport is also at the heart of drone photography, and the Drone Awards entires vary from harmonious and peaceful to splashy and chaotic.
Of course, the drone awards couldn't ignore the pandemic that was so impactful, effectively changing the entire society in a matter of months.
Here are some of the most powerful drone photos depicting our life in the pandemic.
Other photography categories included Wedding , Series , Abstract , and People . There were also two video categories: a general one, and another one about our life in the pandemic — a topic that was heavily in the focus. You can access the entire gallery here .