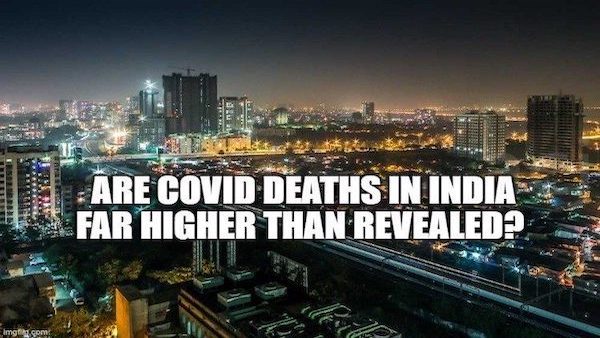 ARE COVID DEATHS IN INDIA FAR HIGHER THAN REVEALED
RITA F. KURIAN
---
Bodies are being cremated and buried in masses today! India reveals +152,682 new cases of COVID and +838 deaths yesterday. Yet hospital sources reveal an outpouring number of dead bodies. In different parts of the country, crematoriums and graveyards are overflowing with dead bodies. There are mass burials and multiple bodies being burned up in the same funeral pyre due to lack of space.
As per the guidelines of the ICMR, if a comorbid patient dies, then a committee of medical experts decides the primary and secondary causes of death. If they diagnose the main cause of the death as heart attack, then even though the patient was infected with coronavirus, such death is not counted as a COVID death. Is there a non-diagnosis of legitimate COVID deaths leading to miscalculations and people letting down their guards?
Today, medical sources told the Times of India that Gujarat crematoriums are overflowing with the dead amid the COVID-19 surge. These bodies are being cremated in an open plot outside a crematorium in Surat. The pyres at crematoriums in four major cities of Gujarat — Surat, Ahmedabad, Vadodara, and Rajkot are incessantly burning incessantly. While burning, more bodies are waiting in line for their turn.
However, the state government states that only 49 COVID deaths were recorded across Gujarat on Saturday, taking its overall COVID toll to 4,746. It is noted that during the first wave, 49 people had succumbed to COVID on a single day on May 5, 2020.
In Surat, Ramnath Ghela Crematorium (RGC), Umra, and Kurukshetra Crematorium (KC), Jahangirpura have been receiving around 80 bodies. Ashwini Kumar Crematorium (AKC), Surat's biggest one, used to attend to more than 30 bodies, but now it has been cremating 110 bodies on average daily. AKC has nine gas furnaces in working condition and four stands for the wooden pyre. In September 2020, Rajkot says 94 COVID deaths in 3 months but crematorium and burial ground data put it at 1,247. The same is today, 2021.
In Chhattisgarh, an old woman contracted COVID and the governmental medical authorities took her away and none in her family was allowed to contact her. She died within 3 days and her family was instructed not to come to her funeral due to the COVID surge. A Christian pastor, however, went to her funeral and to his horror discovered that bodies were being buried in a huge common pit where mud was thrown over one body from another. There were 18 bodies in that pit just in one day buried in that mass grave. This is happening all over the nation.
As in other parts of India, Uttar Pradesh too is witnessing a rising sweep of Covid-19 cases even as the state government is enforcing restrictions to limit the spread. Despite the night curfew and other restrictions, bodies are beginning to pile up as well, and in some areas ensuring their last rites has emerged as a separate challenge.
There are 170 COVID deaths in a week where bodies pile up in Raipur, Uttar Pradesh. The body of a COVID patient being cremated in Raipur on Friday. Medical officials report that there is a frightening surge in coronavirus cases while bodies of COVID patients are piling up at a mortuary and Ambedkar Hospital in Raipur "faster than they can be cremated." They also state that deaths in home isolation and unclaimed bodies are adding to the backlog."
Raipur has reported 170 Covid deaths in the eight days of April – far more and faster than the city's crematoriums and graveyards can handle.
There is also a pile-up at Lucknow Electric Crematorium. Officials report that one of the two machines broke down, leading to hours-long waits for bereaved families. Following health protocol, funerals can only be performed in an electric crematorium and not on traditional Hindu wooden pyres for COVID cases.
In Maharashtra, the bodies of 8 coronavirus victims cremated on one pyre just in a single instant.The COVID-19 spread in Maharashtra is terrifying. Cemeteries are beginning to refuse to accept dead bodies due to a lack of space.
The piercing question is if there are so many deaths in just a single day in one area, how many more death must be rising in different parts of India? With India's population of 1.38 billion people, recording approximately 838 deaths in a day could be possible, but these figures look impossible when medical officials, crematoriums, and graveyards reveal the massive bodies, burning, and burial of hundreds a day, just in a few areas. Are the state governments downplaying the COVID-related deaths?
Are people who are dying from COVID attributed to dying from a heart attack? If this is being done, this is sheer deception, conning the public to falsely believe that the pandemic is under control when it is in fact stealthily and viciously attacking lives. It could in time become worse than the Black Plague. Remember the deadliest bubonic plague, the most fatal pandemic recorded in human history, causing the death of 75–200 million people with the dead overpowering the living. The Black Plague was called Grim Reaper, the very manifestation of death due to the monstrous manner in which it took away lives.
The most popular theory of how the plague ended is through the implementation of quarantines.
It must not be forgotten that election campaigns and election polling were held in the midst of the COVID sweep, so politicians themselves, leaders of the nation are not taking it seriously.
No one should play with COVID-19 because it is sneaky, cunning, deadlier, and far more lethal than anyone realizes. The mass burials and cremations happening all over the nation indicate COVID is sweeping over the country drastically.
The dead are buried in the same manner during wartimes. Remember, we are in a war! The ramifications and destruction of COVID should not be underplayed.
Mobile Phone Users - Click 3 Dots Below to View Complete Page